VT-21 Leadership
Commanding Officer
CDR Matt Maher | United States Navy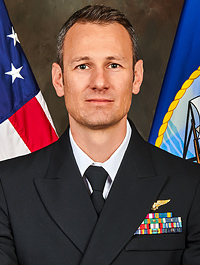 Cmdr. Matt "Meatwad" Maher was born in Las Cruces, New Mexico, raised in Parker, Colorado, and received a degree in aerospace science from Metropolitan State University in Denver. He received his commission from Officer Candidate School, Pensacola, Florida, in July 2001. He was designated a naval aviator at Naval Air Station (NAS) Kingsville, Texas, in May 2003 and reported to the "Vikings" of Electronic Attack Squadron (VAQ) 129 at NAS Whidbey Island, Washington, for initial training in the Grumman EA-6B Prowler.
Maher's first operational assignment was with the "Cougars" of VAQ-139, attached to Carrier Air Wing (CVW) 14. During this assignment Maher completed three Western Pacific deployments aboard USS John C. Stennis (CVN 74) and USS Ronald Reagan (CVN 76). While deployed, he flew both carrier-based and forward-deployed combat missions in support of Operation Iraqi Freedom. In December 2007, Maher amongst a small cadre of VAQ aviators to be selected to transition to the F/A-18E/F Super Hornet in preparation for the stand-up of the EA-18G Growler.
In January 2008, Maher reported to the "Gladiators" of Strike Fighter Squadron (VFA) 106 at NAS Oceana, Virginia. After completing his initial training in the F/A-18 Super Hornet, Maher remained at VFA-106 as an F/A-18 Hornet and Super Hornet Fleet Replacement Squadron (FRS) instructor pilot and landing signals officer (LSO), training pilots and weapon system officers for follow-on fleet assignments.
In June 2010 Maher reported to the "Vikings" of VAQ-129 at NAS Whidbey Island as an EA-18G FRS instructor pilot and training LSO where he trained Growler pilots and electronic warfare officers for follow-on fleet assignments while assisting squadrons in the transition from the EA-6B to the EA-18G.
In April 2013 Maher reported to the "World Famous Black Ravens" of VAQ-135 for his operational department head tour, where he served as admin and maintenance officer. As part of an expeditionary squadron, he completed detachments and deployments to various forward-deployed locations around the globe. In September 2014, while detached to Sliac, Slovakia, Maher was selected to lead the first EA-18G Growler Basic Fighter Maneuvers training mission with a Slovak MIG-29 Fulcrum.
In 2016 Maher reported for a joint assignment to North American Air Defense (NORAD) and United States Northern Command (USNORTHCOM) at Peterson Air Force Base, Colorado Springs, Colorado. Maher was assigned to the Science and Technology Division (J8-S&T) where he worked as deputy division chief for the air and missile domain.
Maher currently serves as the commanding officer of the "Redhawks" of VT-21 at NAS Kingsville.
Maher has flown more than 3,000 flight hours and logged over 500 arrested landings on eight aircraft carriers. His personal decorations include the Defense Meritorious Service Medal, Strike Flight Air Medal (3), Navy Commendation Medal (2), Navy Achievement Medal (2), along with various other personal, unit, and campaign awards.