VT-21 Leadership
Commanding Officer
CDR William M. Rietveld | United States Navy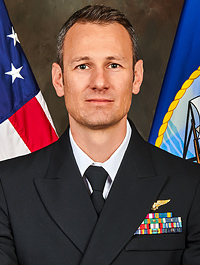 Cmdr. William Rietveld is a native of Holland, Michigan. He enlisted in the Navy as an Aviation Electronics Technician in July of 1998. In September of 1999, he received a nomination from the Secretary of the Navy to attend the Naval Academy via the Naval Academy Prep School, graduating from the academy in May of 2005 with his commission and a Bachelor of Science in systems engineering.
He reported to Naval Air Station (NAS) Pensacola, Florida in June 2005 for Aviation Preflight Indoctrination. From there, he attended primary flight training at NAS Whiting Field, Florida, with the "Shooters" of Training Squadron (VT) 6, flying the T-34C Turbo Mentor. After selecting strike aviation, he attended advanced flight training at NAS Meridian, Mississippi, with the "Tigers" of VT-9, flying the T-45C Goshawk. Rietveld earned his Wings of Gold as Naval Aviator in June 2007.
Rietveld reported to Strike Fighter Squadron (VFA) 125 at NAS Lemoore, California, for initial training in the F/A-18C Hornet in July 2007. Upon completion of training, his first fleet assignment was with VFA-86 at Marine Corps Air Station Beaufort, South Carolina, from June 2008 to May 2011. He deployed aboard USS Nimitz (CVN 68) with Carrier Air Wing (CVW) 11 to U.S. 5th Fleet in support of Operation Enduring Freedom in Afghanistan.
In May 2011, Rietveld reported to VFA-122 at NAS Lemoore as an instructor pilot until March 2014. From there he reported the staff of Carrier Air Wing (CVW) 2 at NAS Lemoore as the Strike Operations Officer. While assigned to CVW-2 staff he supported Rim of the Pacific (RIMPAC) exercise 2014 aboard USS Reagan (CVN-76).
Rietveld reported for his department head tour with VFA-113 in Lemoore, California in August 2015 where he flew the F/A-18E Super Hornet and served as the operations department head. He deployed aboard USS Roosevelt (CVN-71) to U.S. 5th Fleet in support of Operation Inherent Resolve in Iraq and Syria.
In February 2018, Rietveld reported to the staff of Commander, United States Northern Command (USNORTHCOM) in Colorado Springs, Colorado, where he served in the Command Center for USNORTHCOM. While assigned to USNORTHCOM, he also completed graduate education from the U.S. Naval War College via the distance-learning program.
Rietveld reported to Training Air Wing Two (CTW-2) at NAS Kingsville, Texas in February 2021, where currently serves as the commanding officer for the "Red Hawks" of VT-21.
Rietveld has accumulated more than 2,000 flight hours and over 350 carrier arrested landings. His personal awards include the Defense Meritorious Service Medal, Air Medal, Navy and Marine Corps Commendation Medal (two awards), Navy and Marine Corps Achievement Medal (three awards) and various unit and service awards.