VT-21 Leadership
Commanding Officer
CDR Christopher D. Glandon | United States Navy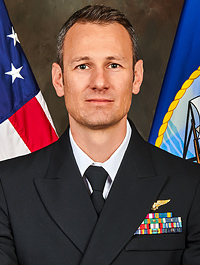 Cmdr. Christopher D. Glandon is a native of Sigourney, Iowa. He graduated from Iowa State University in May 2002 with a Bachelor of Science in industrial technology and simultaneously received his commission through the NROTC. He reported to Naval Air Station (NAS) Pensacola, Florida, for Aviation Preflight Indoctrination, followed by Primary flight training at Training Squadron (VT) 6 at NAS Whiting Field, Florida. Glandon completed Intermediate and Advanced jet training with VT-9 and VT-7 at NAS Meridian, Mississippi, earning his Wings of Gold as a naval aviator in February 2005.
Glandon reported to Strike Fighter Squadron (VFA) 125 at NAS Lemoore, California, for initial F/A-18C pilot training. His first fleet assignment was with VFA-97 in the same location, where he served as assistant logistics officer, line division officer, schedules officer, and weapons training officer from January 2006 to June 2009. He deployed twice to the Western Pacific as part of Marine Aircraft Group (MAG) 12 and completed a workup cycle with Carrier Air Wing (CVW) 11 aboard USS Nimitz (CVN 68).
Glandon served as an instructor pilot at VFA-122 in Lemoore from July 2009 to February 2012. His duties included public affairs officer, student control officer, assistant strike phase head, instrument program manager, and T-34 program manager. Glandon's next assignment was on the staff of CVW-2 where he served as future operations officer from March to November 2012. He deployed aboard USS Abraham Lincoln (CVN 72) and flew combat missions in support of Operation Enduring Freedom.
In December 2012, Glandon reported for his department head tour with VFA-113 in Lemoore. He served as administrative officer, safety officer, maintenance officer, and operations officer. He deployed aboard USS Carl Vinson (CVN 70) with CVW-17 and flew combat missions in support of Operation Inherent Resolve. After more than 10 years based in Lemoore, Glandon transferred to Newport, Rhode Island, in November 2015 to attend graduate education at the U.S. Naval War College. He graduated in November 2016, earning a Master of Arts in national security and strategic studies, with distinction.
Glandon reported to U.S. Strategic Command at Offutt Air Force Base, Omaha, Nebraska, in December 2016. He served as chief of the strategy and campaign plan branch in the J5 Plans and policy directorate and stood watch as the chief of operations in the Global Operations Center. In October 2018, Glandon reported to Training Air Wing (TW) 2 at NAS Kingsville, Texas, and currently serves as executive officer of VT-21.
Glandon has flown more than 2,900 hours in the F/A-18A-F, T-45C, T-2C, and T-34C. His personal awards include the Defense Meritorious Service Medal, Air Medal (Strike/Flight), Navy and Marine Corps Commendation Medal, Navy and Marine Corps Achievement Medal, and various deployment and unit awards.