VT-28 Leadership
Commanding Officer
CDR John Kollar | United States Navy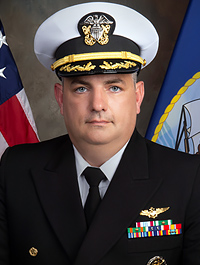 A native of Winnetka, Illinois, Commander Kollar graduated from the U.S. Naval Academy in 2000 where he earned a Bachelor of Science in Astronautical Engineering. He was winged as a Naval Aviator in November 2002.
Following initial EA-6B Prowler fleet replacement training, in May 2004, Commander Kollar reported to the Zappers of Electronic Attack Squadron ONE THREE ZERO where he served as Head Landing Signals Officer, Line Division Officer, and Schedules Officer. He deployed with the Zappers on the USS HARRY S TRUMAN WASHINGTON (CVN 75) in 2004-2005 in support of Operation IRAQI FREEDOM, and to MCAS Iwakuni, Japan, in 2006 in support of United States Pacific Command airborne electronic attack requirements.
In 2007, Kollar was selected to attend the U.S. Naval Test Pilot School (USNTPS) and graduated from USNTPS with class 133 in June 2008 and was subsequently assigned to Air Test and Evaluation Squadron TWO THREE. With the Salty Dogs he served as the lead project officer for the X-47B Iron Raven, and oversaw the first flight of that airframe. He was designated as a Cat-C test pilot in the F/A-18, EA-6B, and the EA-18G, and completed carrier suitability test flights in those aircraft. Flying in VX-23's F/A-18F "Green Hornet" in April 2010, at an Earth Day event attended by Secretary Ray Mabus, Commander Kollar was crewed with Lieutenant Commander Thomas Weaver and conducted the world's first supersonic bio-fuel flight operations.
In December 2011, Commander Kollar reported to the Rooks of Electronic Attack Squadron ONE THREE SEVEN as the Quality Assurance Officer. While there he also served as the Admin, Operations, and Maintenance Officer. He deployed with the Rooks on the USS ENTERPRISE (CVN 65) in 2012 in support of Operation ENDURING FREEDOM and counter piracy operations in the North Arabian Sea. In 2013 he was with the squadron as it transition from the EA-6B Prowler to the EA-18G Growler.
From April 2014 to October 2016, Commander Kollar was assigned to Joint Functional Component Command Space (JFCC SPACE), Vandenberg AFB, CA, where he served as Branch Chief of Directed Energy and Section Chief of the Laser Clearinghouse.
In 2016 Commander Kollar graduated with honors from Johns Hopkins University, earning a Master of Science degree in Complex Systems Engineering.
Commander Kollar has accumulated over 2,500 flight hours in 29 different aircraft, and over 240 carrier arrested landings in the EA-6B and EA-18G. His personal decorations include the Defense Meritorious Service Medal, Air Medal (4), Navy and Marine Corps Commendation Medal (2), Navy Achievement Medal (2), and additional individual, campaign and unit awards.
Commander Kollar assumed duties as the Commanding Officer of the VT-28 Rangers in August of 2018.