VT-22 Leadership
Commanding Officer
LtCol Kevin Goodwin | United States Marine Corps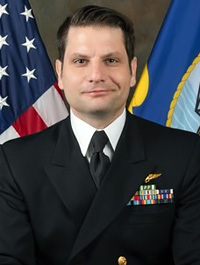 U.S. Marine Corps Lt. Col. Kevin "Yank" Goodwin is a native of Milton, Massachusetts. He graduated from the U.S. Naval Academy in May 1999 with a Bachelor of Science in Systems Engineering and was commissioned a second lieutenant in the U.S. Marine Corps. Upon completion of The Basic School, he proceeded to Pensacola, Florida; Corpus Christi, Texas; and Kingsville, Texas, earning his wings with VT-22 in July 2002.
Goodwin proceeded to Marine Corps Air Station Miramar for Fleet Replenishment Squadron training with VMFAT-101 and in November 2003 he joined the Green Knights of VMFA(AW)-121. While with the Green Knights, he served as schedules officer, flight officer, assistant aircraft maintenance officer, and the pilot training officer. Goodwin earned his Mission Commander, Low Altitude Tactics Instructor and Forward Air Controller Airborne Instructor qualifications during this tour, and also graduated from the Marine Corps Weapons and Tactics Instructor Course. He completed a Western Pacific deployment to Iwakuni, Japan, and an Operation Iraqi Freedom (OIF) deployment to Al Asad, Iraq.
In November 2007, Goodwin reported to 1st ANGLICO at Camp Pendleton, California, for duty as a Supporting Arms Liaison Team (SALT) air officer and deployed in support of OIF in March 2008. Upon completion of his FAC tour, Goodwin reported to VMFAT-101 in March of 2009 for duty as an instructor pilot. While with the "Shooters," he served as the Air to Ground Phase head and training officer.
In July of 2011, Goodwin reported to MAG-12 in Iwakuni, Japan, and served as the PLANs officer and assistant operations officer. In August 2012, Goodwin reported to the Bats of VMFA(AW)-242 as the aircraft maintenance officer. He supported multiple exercises in the Pacific area of responsibility. Goodwin was selected by the 2013 Commandant's Professional Intermediate Level Education Board to attend Naval Postgraduate School and reported to Monterey, California, in July 2014.
In June 2016, Goodwin graduated from NPS with a Master of Science in Operations Research and proceeded to the Pentagon for duty as an operations research analyst at Headquarters Marine Corps, Programs and Resources. For the next two years Goodwin worked on the development of readiness models to tie resources to readiness for the Marine Corps. While there, he was selected for command and reported to VT-22 in July 2018.
LtCol Goodwin has flown over 2,000 hours in the F/A-18. His decorations include the Meritorious Service Medal, seven Air Medals, three Navy and Marine Corps Commendation Medals, two Navy and Marine Corps Achievement Medals, and various campaign and unit awards.