VT-22 Leadership
Executive Officer
CDR Nathan O'Kelly | United States Navy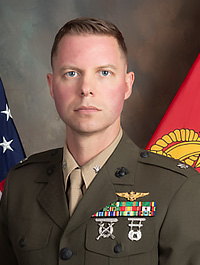 Cmdr. Nathan "Yokel" O'Kelly is a native of Lexington, South Carolina. He completed boot camp at Great Lakes, Illinois, in November 1996. After boot camp, he was assigned to the "Scorpions" of Electronic Attack Squadron (VAQ) 132 in Whidbey Island, Washington. Completing his tour as an avionics electronic technician, O'Kelly was selected for the Enlisted Commissioning Program (ECP). Upon completion of his studies at the University of South Carolina he graduated in 2004 cum laude with a Bachelor of Science in physics.
After initial jet training in Naval Air Station Kingsville, Texas, he earned his Wings of Gold in January 2006. Upon completion of training in the F/A-18E/F Super Hornet with the "Flying Eagles" or Strike Fighter Squadron (VFA) 122, O'Kelly reported to his first operational squadron, the "Black Knights" of VFA-154 onboard NAS Lemoore, California. As a Black Knight, he completed a Western Pacific deployment supporting U.S. 7th Fleet operations onboard USS John C. Stennis (CVN 74). His other operational assignments include Carrier Air Wing (CVW) 11 landing signals officer (LSO) deploying in Support of Operation New Dawn and contingency operations in the Red Sea onboard aircraft carrier USS Nimitz (CVN 68) as well as a department head tour with the "Pukin' Dogs" of VFA-143 deploying in support of Operation Inherent Resolve (OIR) onboard aircraft carrier USS Harry S. Truman (CVN 75).
Ashore, O'Kelly served as a F/A-18E/F instructor pilot at VFA-122, Force LSO for Commander Naval Air Force Atlantic (CNAL), and an Air and Missile Defense instructor and mentor at Tactical Training Group Atlantic (TTGL).
O'Kelly was the 2009 Black Knight Junior Officer of the Year, 2013 Commander, Naval Air Forces Landing Signals Officer of the Year and Top Hook for USS Harry S. Truman 2016-17 OIR combat cruise. His personal decorations include the Meritorious Service Medal, Air Medal, Navy and Marine Corps Commendation Medal, Navy and Marine Corps Achievement Medal, and numerous campaign and unit citations. He has accumulated over 1,800 hours and 600 arrestments in F/A-18 aircraft.