TW4 Leadership
Commodore
CAPT Kevin Delano | United States Navy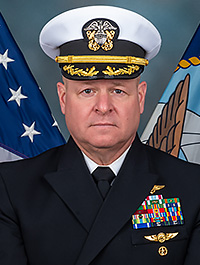 CAPT Kevin Delano is a native of Sanger, California. He is a 1994 graduate of the United States Naval Academy, where he received a Bachelor of Science in Political Science. He was designated a Naval Aviator in October 1996. He holds a Master's degree in Military Operational Art and Science from Air Command and Staff College, Montgomery, Alabama, earning the 2009 International Security Studies Award.
CAPT Delano's operational Maritime Patrol and Reconnaissance Aircraft (MPRA) tours included Patrol Squadron (VP) 9, Barbers Point / Kaneohe Bay, Hawaii and VP-30 / VP-45, Jacksonville, Florida. His other operational tours include flight deck officer / catapult and arresting gear officer aboard USS GEORGE WASHINGTON (CVN 73) and the Air Operations Officer for Carrier Strike Group 2 (CSG-2) onboard the USS GEORGE H.W. BUSH (CVN 77). While assigned to CSG-2, he served as the LNO to Commander FIFTH Fleet coordinating the Strike Group's response in the initial efforts for OPERATION INHERENT RESOLVE. He has also served extensively as an instructor pilot in multiple operational tours including a tour with VP-30, the P-3 Fleet Replacement Squadron (FRS). CAPT Delano commanded the 33d Flying Training Squadron at Vance AFB, Enid, Oklahoma. In this capacity he led a Joint Specialized Undergraduate Flying Training Squadron, flying the T-6 Texan II.
CAPT Delano joined the Joint Staff, J3 in the fall of 2014. He served on the National Joint Operations and Intelligence Center floor as the Chief of Operations and the Division Chief for the National Military Command System Operations Division.
His awards include the Defense Superior Service Medal, Meritorious Service Medal (two), Navy Commendation Medal (five), and various unit citations and service awards.