TW4 Leadership
Chief Staff Officer (CSO)
CDR Brian A. Bradford | United States Navy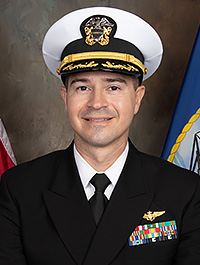 Commander Bradford is a native of Statesville, North Carolina who began his naval career via commissioning from the United States Naval Academy in 1998, earning a bachelor's degree in Mechanical Engineering. He was designated a Naval Aviator in March 2000. He completed a master's degree in Business Administration from Webster University, and JPME I at Ft. Leavenworth, KS, in 2009.
In 2001, CDR Bradford joined the VP-45 Pelicans in Jacksonville, Florida and served as Quality Assurance Officer, in addition to his duties as P-3C Aircraft Commander, Instructor Pilot and Combat Aircrew 12 Mission Commander. During this tour he completed multiple deployments including: Sigonella, Sicily, Keflavik, Iceland and Roosevelt Roads, Puerto Rico.
In 2004, CDR Bradford reported to the VT-27 Boomers in Corpus Christi, Texas where he was the squadron Instrument Navigation Standardization Officer and Instructor Pilot for the T-34C squadron.
CDR Bradford's next tour was aboard USS Nimitz (CVN 68) as V-2 Division Officer, and one of the ship's Catapult and Arresting Gear Officers "Shooter". During this tour in 2007-2008 he was responsible for the maintenance and operation of the ship's Aircraft Launch and Recovery Equipment (ALRE), during two consecutive West Pac deployments.
In 2009, CDR Bradford reported to Patrol Squadron 26 for his Department Head tour and served as Operations Officer and Training Officer. While assigned to the TRIDENTS, he deployed to Sigonella, Sicily and Djibouti, Africa.
In December 2011 at the Pentagon, CDR Bradford was the Joint Chiefs of Staff Political-Military advisor for the Sahel Region of Africa.
CDR Bradford reported to MacDill AFB, Tampa, Florida in December of 2014 to become an Afghanistan Pakistan Hand. During this tour he deployed to US Embassy Islamabad for a year as the Navy Programs Officer for the Office of Defense Representative – Pakistan (ODRP).
In February 2018, CDR Bradford returned to Corpus Christi, Texas as TRAWING 4, Chief Staff Officer.
CDR Bradford's personal awards include Defense Meritorious Service Medal (3), Joint Service Commendation Medal, Navy Commendation Medal (3), Joint Service Achievement Medal (2), and Navy Achievement Medal (3).